Paige Chiropractic and Acupuncture
Welcome to Paige Chiropractic and Acupuncture located in Manchester. Chiropractic is one of the most amazing healthcare professions, but very few people understand what it's all about. This article is here to help you gain a basic understanding of how our Manchester chiropractors can help you and your family.
---
Chiropractor Manchester VT
Paige Chiropractic and Acupuncture offers a unique approach to health care treatment that incorporates both Western and Eastern philosophies of health care. Our critical values are putting our patients first and attaining results for our patients.
As shown in the pie chart below, most people enter the office with symptoms of back pain, low back pain, and neck pain but we also treat a variety of other complaints. Some of the symptoms you don't see below include tinnitus, dizziness, digestion issues, weight loss, infertility, depression, elbow pain, foot pain, rib pain, and wrist pain. Of course there are other complaints you may have that are certainly welcome.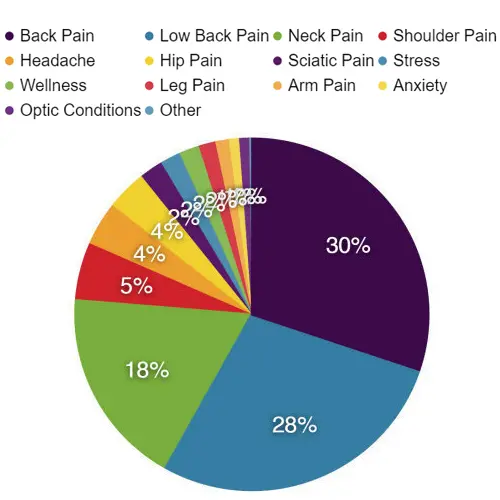 Some patients come in looking for just chiropractic care, others for just acupuncture, and there are those who willing to try the best option. Sometimes we start with chiropractic and then move to acupuncture and vice versa. Sometimes we do both in the same appointment.
Our goal is to restore health and to enhance the quality of life of our patients and we have a variety of tools for the most effective way to do that within our scope of practice.
| | |
| --- | --- |
| Monday | 8:00am - 4:00pm |
| Tuesday | Closed |
| Wednesday | 8:00am - 4:00pm |
| Thursday | 8:00am - 12:00pm |
| Friday | 8:00am - 4:00pm |
| Saturday | Closed |
| Sunday | Closed |